Les contenus de la section britannique
La section britannique de l'EIPACA prépare les élèves à l'option internationale du brevet et du baccalauréat. Cliquez sur le 

 pour découvrir les matières enseignées en langue de section, puis choisissez une disciplines et cliquez dessus pour en connaître les contenus.
Pour prendre contac avec la responsable de la section britannique, veuillez envoyer un message à
Mme Nadine Hamard :britsection.eipaca@gmail.com
British OIB – General presentation

What is the British OIB?
A long-standing partnership between the French Ministry of Education and Cambridge International Education.
The British version of the OIB is an integrated Franco-British school-leaving certificate based on the French Baccalaureate. It combines the breadth and rigour of the Baccalaureate with extra subjects taught and examined in English to A-Level standard, in a single certificate.
These extra subjects – English Language & Literature and History–Geography – are added to the full syllabus of the French Baccalaureate. They are examined in English at first-language level and certified by Cambridge as equivalent to A Level in standard.
 A bilingual education
The British OIB makes academic and linguistic demands to an equal level in English and French.
It requires students to use both English and French in an academic context at first-language level
Through this dual programme, OIB students develop a capacity for hard work and an intellectual and cultural flexibility that give them the potential to become excellent undergraduates in Britain, France and elsewhere.
Our specificity at EIPACA

In a British OIB, History–Geography is taught in both English (50%) and French (50%). At EIPACA, History–Geography is taught entirely in English
Mathematics is also taught in English from middle school to the class of Seconde included. Subsequently, if the students choose to take Mathematics as one of their Spécialités, 5 and then 7 additional periods of Mathematics in English are added to their schedule.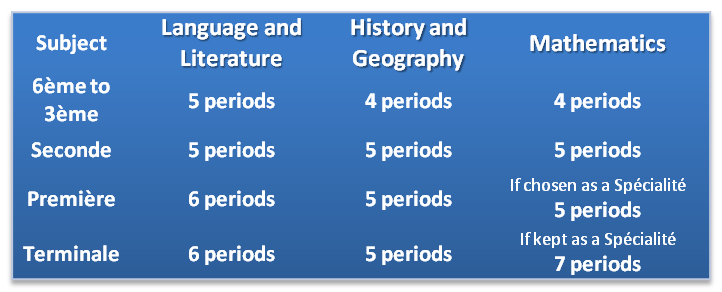 Recognition of our diploma

The British OIB prepares students equally for university study in Britain or France, through exposure to the pedagogy and methodology typical of both A level and the French Baccalaureate
The standards of the French Baccalaureate are well established, and permit successful students to pursue the full range of subjects for undergraduate study in the most selective British universities.
It provides students with a 

university entrance qualification

 valid in Britain.
In 2019, more than 1,400 candidates took the British OIB (1,000 candidates in France and 400 worldwide). Each year new British Sections open. This growing number of candidates reinforces the recognition of the British OIB around the world.
Comment aider votre enfant si vous n'êtes pas natifs ?

Les encourager à pratiquer l'anglais le plus possible
Les encourager à lire en anglais pour leur plaisir au-delà des livres étudiés en classe
Regarder des films et des séries en VO seul(e) ou en famille
Fréquenter des jeunes de son âge anglophones
Faire une activité culturelle ou sportive en anglais
Faire des stages d'immersion ou poursuivre des échanges avec des familles anglophones
 L'école ne suffit pas pour devenir bilingue. C'est un processus délibéré et actif qui nécessite un véritable engagement.
Section britannique au collège
Examination : Diplôme National du Brevet mention internationale

The brevet is a French state qualification taken by pupils at the end of troisième (Year 10) comprising written examinations in French, Mathematics, Sciences and History-Geography- EMC.  The History, Geography and Mathematics examinations are in English.
In order to qualify for the 'mention internationale', students must also take oral examinations in English Language and Literature and History-Geography.  These examinations take place in English and are organised by the schools internally.  Students must achieve over 10/20 in both the oral examinations to be awarded the 'mention internationale'.
See Exams tab for more details
Les enseignements en langue de section britannique en sixième
Les enseignements en langue de section britannique en classe de cinquième
Les enseignements en langue de section britannique en classe de quatrième
Les enseignements en langue de section britannique en classe de troisième
Section britannique au lycée
Examination : Bac OIB
The written examinations assess knowledge, understanding, skills and response comparable to those of A Level examinations.
The Oral examinations assess the candidate's ability to present, analyse and evaluate literary texts or historical–geographical content, and to defend a point of view in front of two examiners.
An unusual feature of the OIB is that all students, whatever their future undergraduate subject choices, are examined to A-Level standard in English Language & Literature and History–Geography.
Official texts
Les enseignements en langue de section britannique en seconde
Les enseignements en langue de section britannique en classe de première
Les enseignements en langue de section britannique en classe de terminale
Lycée : Extra activities at school

Shakespeare workshops
Yearly Shakespeare workshops with English actors have become part of our programme for the 2de international class.
Since Romeo and Juliet is on the programme for the 2de British OIB section (and equally on the list of works to be studied for the IGCSEs), Shakespeare becomes alive for the students with the presentation of these dynamic workshops.
The workshops – called « In Shakespeare's company » – have three main objectives:
In Will's company: evoking the cultural, historical & political context of Shakespeare's life and times;
In Will's words: exploring of the substance, music and power of Shakespeare's language;
In Will's footsteps: performing Shakespeare as actors & directors.
This is a dynamic experience and we have only had overwhelmingly positive feedback from students over the past years with this project.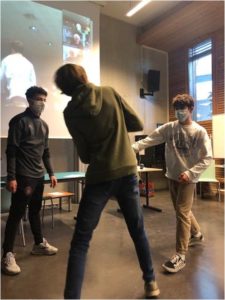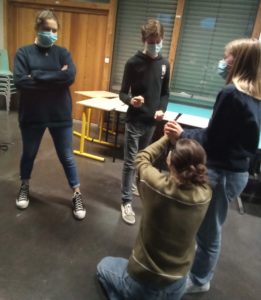 The International General Certificate of Education (IGCSE) is an international version of the GCSE qualification taken by all students at the end of compulsory schooling (Year 11 / Seconde) in the UK.  IGCSE programmes are generally taught over two years – in 3ème and Seconde – although some schools teach the courses in one year, in Seconde.  IGCSE examinations can be taken in June or November.
The benefits of taking IGCSEs include:
Providing a curriculum structure and teaching resources that enable teachers to provide an authentic age-appropriate first-language teaching programme
Providing students with the opportunity to measure their progress against UK national standards through external assessments in preparation for OIB courses
Enabling students to study OIB subjects through English rather than studying English as a foreign language (as is the case with English Language Proficiency courses and qualifications)
Providing a qualification that can be used to demonstrate English Language Proficiency when applying for places at British or Anglophone universities, and when seeking employment
Supporting the transition from collège to lycée
 GCSE is referred to as a point of reference in terms of linguistic standard and curricular content for English Language and Literature in official French texts.  See here.
 See Pronote Agenda and Communication for information (details, applications, calendar …) or click here
Exchange with King School (CT, USA)

For six years, a three-week immersion trip used to be organised in Seconde with King School (Stamford, Connecticut, USA).
Our students are hosted by American families and follow classes at King during 2 weeks. During our stay in Stamford, the pupils took part in two school trips:
One day at the UN in New York: a guided tour of the UN headquarters including General Assembly and Security Council and a workshop on a topical issue with a member of the UN (i.e. migrations, sustainable development)
One day in Yale university: workshop at the Art gallery and a guided tour of the campus with a Yale student
The programme ends with 4 or 5 days in New York city. The group is accommodated in Long Island and visiting days are intense: Liberty island, Ellis Island, Wall street district, Empire state building, Rockeller centre, 5th avenue, Trump Tower, Metropolitan museum, Natural History museum, Central Park, Soho, China Town and Little Italy…
In return, we welcome and host students from King for two weeks in June.
MUN Club

The Model United Nations (MUN) Club is a debating club, open to lycée students.
Each week, during a lunch break, the students meet to debate current events using the debating procedure laid down by the United Nations General Assembly.
This allows them to develop confidence, mental agility, research and public-speaking skills, as well as a good understanding of the formal debating and decision-making process.
The aim of the Club is to participate to a conference where students take the role of an international delegate of a given country and simulate UN committees. Delegates debate accordingly to their countries point of view on Economic issues, Human Rights, Sustainable development or any crisis.
EIPACA delegates went to ILYMUN in Lyon for several years and GOMUN in Prague.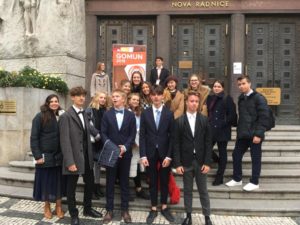 See our Club's page for details
See https://www.un.org/en/mun for more information on Model United Nations activities.
Duke of Edinburgh International Award Club
The Duke of Edinburgh's International Award is the world's leading youth achievement award, operating in over 130 countries and territories around the world, through which young people's achievements outside of academia are recognised and celebrated. It has inspired millions of young people since its launch six decades ago.
The École Internationale Provence-Alpes-Côte d'Azur has been an International Award centre for several years now. We offer the Silver Award certificate for students age 15 and over. Our students go hiking and camping in the "Parc Naturel Régional du Luberon".
All participants are required to complete four sections:
Voluntary service to their community
Developing a new skill
Physical Recreation
Completion of the Adventurous Journey
The Award encourages participants to set their own challenges and supports them through the process of fulfilling them. The Award is opened to all international sections as well as to the European School and is led by two of our teachers and a professional Mountain Guide.
For further information about the Award go to www.intaward.org  or  the Club's page